Special Housing Needs
A.  PERSONS WITH DISABILITIES
While persons with disabilities do not represent a significant portion of the population in the unincorporated area of the county, adequate housing remains an important concern. In 2010, a total of 861 persons had a disability, approximately a quarter of whom (249 persons, Table 34) were not employed, and approximately one quarter were over the age of 65 (222 persons, Table 35).
The Inyo Mono Association for the Handicapped (IMAH) serves disabled adults 18 and older, primarily with vocational training, supported employment and similar programs. The Inyo Mono Area Agency on Aging (IMAAA) contracts with the Mono County Department of Social Services to provide Mono County Senior Services (MCSS). IMAAA also operates the Linkages program in Mono County, which links vulnerable seniors and disabled adults to service in order to enhance their ability to maintain their independence. Mono County Senior Services (MCSS) delivers meals to 28 homes in Walker and serves 15 to 25 meals a day in the Walker Senior Center while 9 to 10 meals a day are delivered to the Benton area seniors. MCSS also has 3 clients under the Linkages Program and 28 under In Home Supportive Services (IHSS) to assist those clients in remaining in their homes. Other than the above, the Mono County Department of Social Services does not maintain information on how many people with disabilities they may assist. Social Services provides the following resources to people in need: CalWORKS, General Assistance, Food Stamps, Medi-Cal and/or CMSP.
Kern Regional Center serves disabled clients from Pearsonville in Kern County to Topaz in Mono County. Due to the size of its service area (16,000 square miles) and the relatively small number of clients (158 people), its services are prescriptive in nature and needs are addressed on an individual basis. They assist clients with adapting their homes and installing assistive devices but do not deal directly with housing.
The Inyo Mono Advocates for Community Action (IMACA) provide a variety of services for disabled, low-income, and homeless persons in Inyo and Mono counties. In unincorporated Mono County, IMACA provides help with retrofit programs (wheelchair ramps, assistive devices, etc.), home weatherization programs for low-income persons, child care, Head Start, and meals. It operates 25 low-income housing units in Mammoth Lakes as well as senior and low-income housing units in Inyo County. IMACA has  Section 8 vouchers that it uses primarily for rental assistance and shelter for homeless persons.
Table 17:  Persons with Disability by Employment Status, Unincorporated Mono County
| | | |
| --- | --- | --- |
|   | Number | Percent |
| Age 16-64, Employed Persons with a Disability | 385 | 61.7% |
| Age 16-64, Not Employed Persons with a Disability | 113 | 18.1% |
| Persons Age 65 Plus with a Disability | 126 | 20.2% |
| Total Persons over 15 with a Disability | 624 | 100% |
| % of Total Population | 5,197 | 12.0% |

Source: Census Bureau (2000 Census SF 3: P42
Table 18:  Persons with Disabilities by Disability Type, Unincorporated Mono County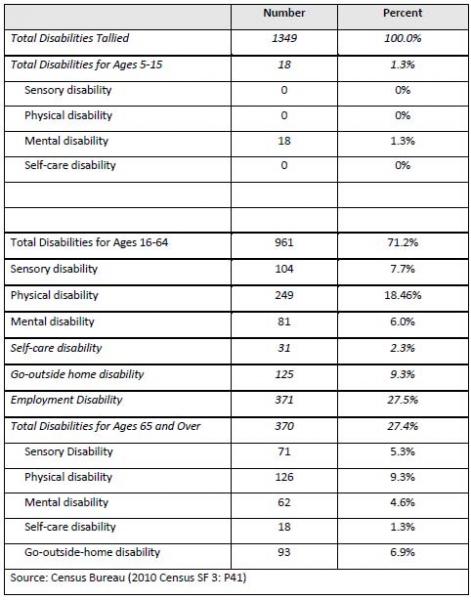 .
B.  ELDERLY
The elderly are defined as those 65 years and older. The 2010 Census reported that 845 seniors reside in unincorporated Mono County, 14.2% of the total population. The home ownership rate of seniors is very high, 95.7% in 2000. In addition, only 18 seniors had incomes under the poverty level in 1999. Home ownership is a significant hedge against the inflationary rental environment, which is probably why there are few seniors at or below the poverty level.
Site and unit size availability are generally not a problem for seniors in Mono County, due to the fact that Mono County is a rural area with the propensity for lot subdivisions rather than home subdivisions and the fact that mobile homes are permitted throughout the county on parcels zoned for single-family residences.
Due to the low number of poverty-level senior residents within the county, future needs for low-income senior households can best be addressed through rehabilitation assistance for homeowners and rent assistance for low- and moderate-income senior renters. Currently, there is no rental-assisted housing in the unincorporated areas. IMACA operates 19 units of senior housing in Bishop. Mammoth Lakes Housing operates rental-assisted housing in Mammoth Lakes, as well as low-income housing to own.
Section 202 financing, Direct Loans for Housing for the Senior or Handicapped, administered by the Department of Housing and Urban Development, is also available to qualified sponsors for the financing of construction of rental or cooperative housing facilities for occupancy by senior or handicapped persons.
C.  LARGE HOUSEHOLDS & OVERCROWDING
Large households are defined as households with more than five persons. When the housing market does not meet large household housing needs, overcrowding can result. Overcrowding is not a significant housing situation in the unincorporated area of Mono County The ACS survey estimates 47 households are overcrowded with 20 of those being severely overcrowded or  173 households were reported to be have over 5 occupants. Large households (five or more persons) are located throughout the county but predominantly in Antelope Valley, Long Valley and Tri-Valley, these areas have large numbers of children and teenagers.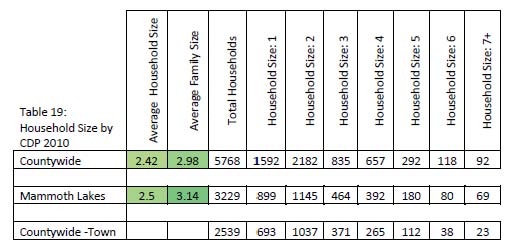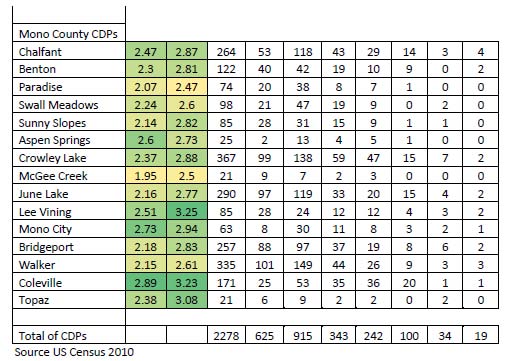 D.  FARMWORKERS
While the acreage in farms in Mono County declined between 1997 and 2007, from 68,813 acres to 44,610 acres, the number of farms increased from 63 to 84. The average size of farms decreased from 1,092 acres to 531 acres; hired farm labor decreased from 121 farmworkers on 26 farms to an undisclosed number of workers on 22 farms (Table 20 and USDA, 1997 and 2007 Census of Agriculture). Much of the census information on the number of workers is undisclosed, making it difficult to estimate the total number of farmworkers in the county. The census does indicate that 7 farms with 25 workers reported only permanent workers, 11 farms with 39 workers reported only seasonal workers, and 4 farms with an undisclosed number of workers reported utilizing both permanent and seasonal workers. Due to federal funding limitations, an updated Census of Agriculture has not been released.
Large farm owners and ranchers in the Antelope, Bridgeport and Hammil valleys hire a limited number of farmworkers and ranch hands. Housing for most of these employees is provided on site. If this type of housing were to be eliminated, it would be difficult for farm laborers to find adequate affordable housing. The 2010 Census indicates that when the census was taken, there were 17 vacant units categorized as "migratory." This does not indicate how many total units were available for farmworkers.
Table 20:  Number of Farmworkers (2007) Mono County


E.  FEMALE-HEADED HOUSEHOLDS
The Census provides data on the total number of female-headed households, the number of those with children, and the number with incomes below the poverty level. The data are not provided separately by owner and renter and include all female heads of household; those without children may be supporting parents, or a single parent may be supporting an adult child or relative. This data is now collected by the ACS. Female heads of household are often the households most in need of affordable housing, childcare, job training and housing rehabilitation funds.
In unincorporated Mono County, there were 145 female-headed households in 2011 (5.7% of all households), up from 137 in 2000 Of the 145 female-headed households, according to the ACS data 0 were under the poverty level however, it is likely that the ACS is underreporting due to a small sample size
The Mono County Department of Social Services estimates that approximately 45 families in the unincorporated area with a female head of household receive assistance from CalWorks on an ongoing basis (Julie Timerman). Under this program they are eligible to receive food stamps and Medi-Cal, as well as Welfare to Work services including, but not limited to, mental health, drug and alcohol counseling, child care, and job skills. There are no direct housing assistance programs.
Female headed households with an income under the poverty level will need affordable rental housing. In Mono County, mobile homes and small multifamily units such as duplexes and triplexes, are often the most affordable.
Table 22:  Female Headed Households (2011) Unincorporated Mono County


Source: ACS 2007
F.  EMERGENCY SHELTER NEEDS AND HOMELESS HOUSING
The need for emergency housing encompasses a large range of situations. Families otherwise able to provide themselves with adequate housing may be suddenly and unexpectedly faced with the need for emergency shelter as a result of fire or family break-up. Families only marginally able to meet their housing needs may be left without shelter when their present housing is sold, when a shared housing arrangement breaks down, from an inability to pay rent, or a number of similar reasons. Finally, there is a transient population, composed of both families and individuals that may have emergency shelter needs.
Mono County does not have a large homeless population, largely due to the severe winter weather conditions. The Mono County Department of Social Services estimates that they have approximately one homeless assistance case per year, usually a family displaced for a short time each year (Julie Timerman). Mono County does not have any homeless shelters, due to the low numbers of homeless persons. In addition, the social services that are provided are not concentrated in one location, making it difficult for a homeless person to utilize them, especially since there is only limited public transportation within the county.
Through the joint efforts of the Mono County Department of Social Services and the Inyo-Mono Advocates for Community Action (IMACA) low-income residents and transients in Mono County may be placed in a local or nearby motel on an emergency basis for up to 28 days. IMACA has 18 Section 8 vouchers that they use primarily for rental assistance and shelter for homeless persons. IMACA also operates 24 units of low-income housing in Mammoth Lakes. The Mono County Department of Social Services provides rental assistance to assist individuals with permanent housing or to keep them from being evicted, and provides food vouchers to qualified persons. Current services are adequate for the needs in the area.
In compliance with state law, the county will designate at least one land use designation where emergency shelters and transitional and supportive housing for the homeless will be allowed without a use permit or other discretionary permit. Emergency shelters will be allowed in the Public Facility (PF) land use designation and multi-family residential designations (MFR). Currently, the county has designated its community centers as emergency shelters for disaster/weather-related shelter needs. Community centers are located in the PF land use designation. As shown in Table 48, the County has a large amount of land designated with various MFR designations, with sufficient capacity to accommodate the need for emergency shelters. In compliance with state law, transitional and supportive housing will be allowed as a residential use in all land use designations where similar housing types are allowed. Transitional and supportive housing must be subject only to the restrictions that apply to other residential uses of the same type in the same designation.
Emergency housing may also be a necessity during times of disaster, such as avalanches, floods, fires and earthquakes. According to the Mono County Multi-Hazard Functional Plan, prepared by the county's Office of Emergency Services, emergency housing may consist of any appropriate public or private building, depending on the size, location and nature of the disaster. Currently, each community area in Mono County has a designated Emergency Shelter, usually the community center or a church or school. Disaster shelters may be temporarily coordinated and/or funded by the American Red Cross, the Federal Emergency Management Agency, the local Department of Social Services, the Sheriff's Department, and other appropriate private or quasi-public organizations. Although the California Office of Emergency Services has suggested that a permanent, year-round emergency disaster shelter may be appropriate for Mono County, the cost of building such a facility is well beyond the reach of the County's budget. Until such time as additional funding becomes available, use of community centers, federal buildings, churches and hotels/motels as evacuation centers/emergency shelters will continue in Mono County.
G.  U.S. MARINE CORPS
The Marine Corps Mountain Warfare Training Center, located off SR 108 west of Sonora Junction and north of Bridgeport, maintains housing on the base and at Coleville in the Antelope Valley. There are 110 housing units at the family housing project north of Coleville in the Antelope Valley, and one barrack at the base with 200 beds for single people.