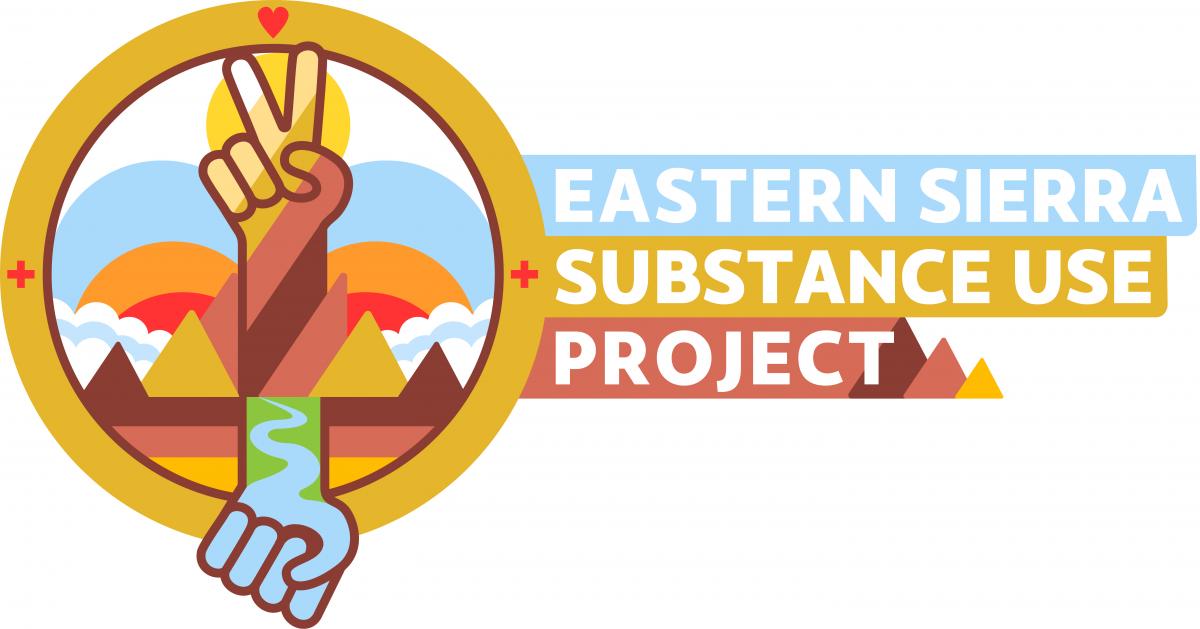 Mission
The Eastern Sierra Substance Use Project (ESSUP) is a collaborative gathering of public and private sector community partners with a goal of reducing the harmful effects of substance use. We seek to enhance prevention, treatment and harm reduction services and to reduce stigma.   
Vision
A collaborative and cohesive community group that promotes understanding of substance use as a disease and improving treatment and harm reduction access and strategies.
Values
Promote health and dignity for all.
---
Misión
El Proyecto de Uso de Sustancias de la Sierra Oriental (ESSUP) es una reunión colaborativa de socios comunitarios del sector público y privado con el objetivo de reducir los efectos nocivos del uso de sustancias. Buscamos mejorar los servicios de prevención, tratamiento y reducción de daños y reducir el estigma.
Visión
Nuestra visión es que nuestra comunidad promueve la comprensión del uso de sustancias como una enfermedad y mejora el acceso y las estrategias de tratamiento y reducción de daños.
Valores
Promover la salud y la dignidad para todos.
Check us out on Facebook!
Eastern Sierra Substance Use Project Facebook page [1]
Inyo County's Eastern Sierra Harm Reduction Facebook page [2]
Upcoming events
Mono County 2022 Harm Reduction events:
July 22nd– Walker Event Community Center
*More events throughout Mono County to come, stay tuned for details 
*Volunteers are always welcomed to help with these events, if interested in helping or having your agency table at the event, email jcroissant@mono.ca.gov [3] or lbaires@mono.ca.gov [3]
News Releases and new articles
It's Time to Treat Addiction in Emergency Rooms and Hospitals [4]
"Tranq Dope"- The Heroin Combo that is putting Pilly to Sleep" [5]
Notes from the Field: Xylazine, a Veterinary Tranquilizer, Identified as an Emerging Novel Substance in Drug Overdose Deaths — Connecticut, 2019–2020 [6]
Xylazine (veterinary sedative) use in Puerto Rico- Substance Abuse Treatment, Prevention, and Policy [7]
Nan Goldin Testifies at Landmark Hearing On Purdue Pharma's Role In Opioid Crisis [8]
How can ESSUP support your training needs??
Do you want to attend a conference or a training but are unable to afford it? ESSUP can help with the funds to support substance use educational needs. Email Jacinda

[9]

 to discuss further.
Next Meeting:
Cancelled:
June 1, 2022, 10am-11:30am
Rescheduled for July 6, 10am
https://monocounty.zoom.us/j/99627064192 [10]
Conferences
Eastern Sierra Substance Use Project virtual 2021 conference  
Watch recording [12]
Overdose Prevention Leadership Summit: virtual event 2021
Watch recording [13]
Previous Meetings 
2019
2020
2021
2022
 
 

September 9, 2021

Agenda [14]

Recording of Meeting [15]

 
 
 

July 7, 2021

Agenda [16]

Recording of meeting:

Part 1  [17]

Part 2 [18]

 
 
 

May 19, 2021

Recording of meeting [19]

Agenda [20]

 
 

NOVEMBER 4, 2020

Recording of Meeting [21]

Agenda [22]

April 7, 2021

Recording of meeting [23]

Agenda [24]

 

October 23, 2019

Meeting Notes [25]

October 6, 2020
Recording of meeting [26]

MARCH 3, 2021

Recording of meeting [28]

April 6, 2022

Recording of meeting [30]

Agenda [31]

 

January 22, 2020

Agenda [32]

Meeting Notes [33]

Substance Use Task Force Member Survey

JANUARY 6, 2021

Agenda [34]

February 2, 2022

Agenda [35]

recording [36]
Check out these podcasts!
Render: The Harm Reduction Podcast [37] (Spotify)
The Connecting Care Podcast [38]
Created by the NASTAD/JSI Strengthening Systems of Care Project
New episode titled "Safe Consumption Sites: Reducing Fatal Overdoses and Increasing Linkage of Care." The Connecting Care podcast is a discussion-based podcast, in which Dr. Alex Walley at Boston Medical Center and colleagues share their experiences providing integrated HIV and Opioid Use services through patient case studies. Please see below for information on the most recent podcast episode on safe consumption spaces.
Gen Green [39] by Young Adults Fighting Tobacco
Check out episode: The New Menthol: Vaping & Covid-19 [40]
Gen Green crew goes over new, crucial research on the connection between vaping and contracting Covid-19 - dissecting the medical realities of smoking and vaping in an accessible manner. Further through the episode, our co-hosts dive into aspects of youth psychology, dank memes, and substance abuse. For the long-term activists, health advocates from the health field, and younger listeners: we are indebted to your efforts and support that you have provided to this program. You are all profoundly appreciated.
Recommended Books
Undoing Drugs: The untold story of harm reduction and the future of addiction
by Maia Szalavitz
Dopamine Nation: Finding balance in the age of indulgence
by Dr. Anna Lembke
Upcoming Live Trainings and outreach events
Funding Available for Tobacco Treatment Specialist Certification:
Are you or someone you work with interested in formal training to support tobacco cessation among the populations you serve?
The Rocky Mountain Tobacco Treatment Specialist Program consists of an interactive, 4-day training experience focused on providing the necessary knowledge, clinical skills, and evidence-based treatment strategies to effectively treat tobacco dependence. Enrollment from any profession or organization is encouraged!
At this time the only course offerings are virtual. The next training will be held May 9-12th 2022.The time commitment is 3 days: 8:00a–5:00p (lunch 12p-1p)
1 day of exams/practicum lasting a total of 3 hours, scheduled during 8:00a–3:00p
For more information, and an in depth look at the learning objectives and curriculum, please view the program guide [41].
Through June 2025, Mono Tobacco Education Program is able to sponsor certification for those working in Inyo or Mono Counties. If you or someone you know is interested in enrolling, please contact tobaccoed@mono.ca.gov [42] or call 760-924-1820
---
Buprenorphine Starts for Fentanyl Use
February 3rd, 11 AM
Facts vs Fear: As fentanyl spreads in many communities, buprenorphine is still an effective tool for treating patients, with just a few clinical adjustments. Register here [43]
---
Hep C Basics: Hep C Patient Navigation, Tuesday, Feb 15, 9:30 AM - 12:30 PM ET, RSVP: bit.ly/HepCFeb15 [44] 
This 3 hour training is designed to provide patient navigators, caseworkers, test counselors and other prevention counselors, with a basic overview of Hepatitis C (Hep C), its impact in NYC, as well as an introduction to successful patient navigation strategies used by current Hep C patient navigation programs. This training provides an overview of NASTAD's Hepatitis C Community Navigation Toolkit and describes how the toolkit can be practically applied to implement and strengthen hepatitis navigation programs.
---
DOPE February 2022 Overdose Prevention & Naloxone Administration Training — Learn more about why people use drugs, how to recognize the signs of an opioid overdose and how to respond to an overdose, including tips on aftercare with The DOPE Project on February 17, 2022 at 10 AM PST. Register here [45].
---
Hep C Medical Care & Treatment Update: Part 2, Thursday, Feb 24, 1-4 PM ET. RSVP: bit.ly/HepCFeb24 [46]
Join us for the second of the two-part series to review the latest advances in treatment for hepatitis C (HCV) and increase awareness of HCV peer workers about the overall medical care needs of people living with HCV.
---
Engaging Special Populations Part II, Racial Disparities
February 24th, 11 AM
Learn strategies to increase MAT access and close the equity gap for Black, Indigenous and People of Color and special populations including homeless and undocumented migrant workers. Register here [47]
---
Transforming Trauma: Workshop and Healing Space for Public Health
"Self-Care is based on the premise that the problem is within you and not a response to a world that creates these conditions." Phillip Agnew, Healing Justice Podcast
The COVID-19 pandemic is a collective, ongoing trauma impacting our communities, families, and, in a specific and complex way, the public health field and our work as people committed to health justice. Public Health Awakened is offering a workshop and healing space for our community to explore the ways that working with and experiencing trauma changes us, and how we view each other, our work, and the world.
Thursdays February 17th & 24th
3-5pm PT / 4-6pm MT / 5-7pm CT / 6-8pm ET
Register here [48]
---
*These two training sessions are to support youth serving organizations, teachers, principals and any staff that work with the youth. 
1) Orientation to Trauma-Informed Care/Schools: Creating a Compassionate Culture and A Resilient Community
Through this presentation, participants will gain an understanding of what trauma is, what causes it, and what can be done to prevent it and/or reverse its effects through an understanding of a trauma-informed approach. Participants will learn the importance of self-care and resilience and leave with some practical and easily applicable tools to use at home, at school, or at work. In this training, we will:
Define trauma and understand its prevalence
Describe the impact of toxic or chronic stress
Understand the basic concepts of Trauma-Informed Care 
Consider ways to support resilience
February 24, 2022 8:30 AM - 12:30 PM
**Please register in advance for this training**
https://us02web.zoom.us/meeting/register/tZEtd-itrT0qHteaIgoYIeUoeYVF-GHV4HDX  [49]
2) Compassion Without Fatigue: Mindfulness, Boundaries, and the Practice of Intentionality
Does your work entail significant or ongoing stress? Have you ever found yourself feeling completely exhausted as a caregiver or traumatized by another's pain? We invite you to join us for a practical, interactive, best practice training to support your own resilience.
Participants will gain a conceptual framework for:
The differences between secondary trauma, moral injury, compassion fatigue, and burnout.
Ways we develop secondary trauma, moral injury, compassion fatigue, and burnout  
How to recover the relationship between mindfulness, boundaries, empathy, and resilience
March 23, 2022 12:30 PM - 4:30 PM Pacific Time
**Please register in advance for this training**
https://us02web.zoom.us/meeting/register/tZYvd-2qrz0pHteNp0AUFxXpuSI6p5JsG_kA [50]
---
Rural Healthcare Provider Transition Project Eligible Learning Collaborative [51]
 April 25, 2022 to July 25, 2022 [51]
This virtual learning collaborative (LC) will focus on challenges and solutions specific to rural health providers to support improvement in health equity and reduction in health disparities. This interactive collaborative will include four (4) virtual, 60-minute learning sessions and additional brief readings and/or reflections between sessions to support understanding of disparities and strategies to address them. 
---
Please email jcroissant@mono.ca.gov [52] if you have any live trainings to share
Recorded or On-Demand Trainings
Watch the recording from a training from NASTAD and partners which discusses how changes to the U.S. drug supply during the COVID-19 pandemic are affecting the health and safety of users, and the programmatic responses by harm reduction and public health organizations. W

[53]

atch Recording

[54]
---
National Harm Reduction
Don't miss the recording of last week's panel, facilitated by National Harm Reduction Coalition medical director Dr. Kim Sue, discussing Maia Szalavitz's new book, Undoing Drugs [55], and exploring the past, present, and future of harm reduction Panelists include Monique Tula, Sessi Blanchard, and Maia Szalavitz. Watch the recording here. [56] 
Learning Lab:
It's Our Backyard Too: Building Community-Centered Support for Harm Reduction [57]
A free policy and advocacy community engagement toolkit (self paced online curriculum)
National Harm Reduction Coalition facilitates trainings around the country. We open our virtual doors to individuals and teams seeking training on important evidence-based harm reduction strategies.
---
NEWLY ADDED VIDEOS!  
---
Making it possible for people who use drugs to get addiction treatment at any hospital- wherever and whenever they need it
---
Meet the Partner: Saving Lives by Understanding the Role of Pediatricians in Treating Adolescent Substance Use
Watch Recording [63]
---
California perinatal opioid use disorder and mental health screening training
Watch Recording [64]
---
Part 1: Register [65]to watch the recorded webinar that the National Harm Reduction Coalition. 
Part 2: Register [66] to watch recorded webinar
Don't miss this panel of harm reduction programs discussing access for their participants that want the vaccine and support those that are not ready or do not want the vaccine using a harm reduction approach.
---
LOCAL: Eastern Sierra Substance Use Conference (virtual)
This was an all-day event on December 2, 2020 with 6 speakers, 2 panel sessions (community and professional/community discussion). Topics ranging from MAT, harm reduction, stigma, perinatal substance use, hepatitis and so much more. Event was recorded, see recording link below.
Conference flyer/agenda/panelist info [67]
Facebook Event page [68] 
(FYI: 1 hr break for lunch in middle)
---
The California Institute for Behavioral Health Solutions (CIBHS) hosted an 11-week webinar series with the goal of consolidating learning from the quick transition to behavioral telehealth services in response to the COVID-19 crisis. The webinars teach practical skills to support improvement of behavioral telehealth and are tailored to mental health and substance use disorder providers as well as their supervisors.
https://www.chcf.org/project/cibhs-webinar-series-behavioral-health-prov... [70]
---
This three-part presentation is designed to help you learn Motivational Interviewing and how to apply it in your practice. It discusses the core principles of Motivational Interviewing and provides case studies for practice.
---
https://www.coursera.org/learn/psychological-first-aid [72]     
*Note – the course is free unless you want a certificate ($49 for certificate)
---
Implicit Bias Training

[73]

: UCLA Implicit training resource site. Take an implicit bias test, review recorded implicit bias training videos and other implicit bias training resources. 
---
Local Training:
PDF of PowerPoint from training [75]
General training to review Naloxone, harm reduction measures and information about accessing services. This training is required for staff distributing Naloxone to community members through the Mono County Naloxone Distribution Program.
---
---
---
---
One of many talks at the Agents of Change Summit 2020
---
---
---
Canadian physician Gabor Maté is a specialist in terminal illnesses, chemical dependents, and HIV positive patients. Dr. Maté is a renowned author of books and columnist known for his knowledge about attention deficit disorder, stress, chronic illness and parental relations. His theme at TEDxRio+20 was addiction, from drugs to power. From the lack of love to the desire to escape oneself, from susceptibility of the being to interior power -- nothing escapes. And he risks a generic and generous prescription: "Find your nature and be nice to yourself.
Recommended Articles
The Ways We "Monsterize" Drug Use, Pain and People [83]
A PRIMER ON COMMUNITY POWER, PLACE, AND STRUCTURAL CHANGE [84]
New Evidence on Substance Use Disorders and COVID-19 Susceptibility (NIH article) [85]
PROTECTING YOURSELF AND YOUR PATIENTS FROM IMPLICIT BIASES
By Michelle van Ryn, PhD, MPH [86]
The Role of Vitamin E Oil in Causing Vaping Related Severe Lung Illness [87]
Multi Criteria Decision Analysis for Evaluating Government Policy Responses to Heroin Use [88]
Medical cannabis dependence: A critical review of issues and evidence [89]
Challenges in Providing Substance Use Disorder Treatment to Child Welfare Clients in Rural Communities [90]
Online curriculums/CEU opportunities
Specific to Providers/Nurses/first responders:
Chronic Pain Core Curriculum  [92]
Performance-in-Practice (PIP): Improving Clinical Practice with Patients who have Opioid Use Disorder (OUD) [93]
ACA and Addiction Treatment and Recovery: What Every Addiction Professional Needs to Know [94]
First Responder Course: Creating Safe Scenes (specific to Mental illness/substance use)  [95]
Substance use pocket guide screening for nurses [97]
The Acute Care Nurse's Role in Harm Reduction for Persons with Substance Use Disorder (SUD) [98]- 0.25 CEU, free
Substance Use Disorders and Co-Occurring Disorders: Essential Curricular Thread for Nursing Education [99]- 0.25 CEU, free
Local Resources 
Naloxone (Narcan) for Opioid Overdose [100]
Mono County Behavioral Health Provider Directory [101]
Mono County Behavioral Health Webpage [102]
Mammoth Hospital Behavioral Health Resources [103]
Toiyabe Indian Health Center Substance Abuse Treatment page [104]
Mono County Community Resources Pamphlet (English/Spanish) [105]
New! Mono County Resource Book [106]
Mono County Cannabis Health Education [107]
Mono County Tobacco Education Program [108]
Archived Online Trainings and Resources
Alcohol Use
Alcoholics Anonymous and Narcotics Anonymous Meetings [109]
Perinatal Substance Use Prevention [110]
Drink Less for Your Breasts [111]
Study: No safe level of alcohol consumption for brain health: observational cohort study of 25,378 UK Biobank participants [112]
ACE's (Adverse Childhood Experiences) 
NEW: Coping with Stress During the COVID-19 Pandemic (one page handout) [113]
ACE's Aware : The ACEs Aware initiative offers Medi-Cal providers training, clinical protocols, and payment for screening children and adults for ACEs. The two-hour online curriculum is easy to access for a wide range of health care professionals and will provide Continuing Medical Education (CME) and Maintenance of Certification (MOC) credits. [114]
​​​​​​​​California Department of Health Care Services resources: Trauma Screenings and Trauma-Informed Care Provider Trainings [115]
ACE's Online Learning: Early Trauma Online Learning Course for Practitioners, professionals and volunteers who work with children, young people and their families. [116]
Adverse childhood experiences: What we know, what we don't know, and what should happen next [117]
Cannabis
Cannabis among youth: awareness and prevention [118]- video recorded training (1hr 30min)
Cannabis Awareness & Prevention Toolkit [119]
Harm Reduction
PRINCIPLES OF HARM REDUCTION [120]: Harm reduction is a set of practical strategies and ideas aimed at reducing negative consequences associated with drug use. Harm Reduction is also a movement for social justice built on a belief in, and respect for, the rights of people who use drugs 
Training Guide-Spirit of Harm Reduction: A Toolkit for communities of Faith Facing Overdose [121]
Harm Reduction Is Not A Metaphor, Living in the 21st Century with Drugs, Intimacy, and Activism [122]
MAT
ADDICTION FREE CA [123]: This website serves as a separate yet complementary resource to the DHCS MAT Expansion Website and provides resources and information related to the four MAT Expansion Project initiatives operated by Health Management Associates.
MENTAL HEALTH
Mental Health Screening Tools [124]
OPIOID USE
Opioid Overdose Resource page [100]
Training for RN/APRN's: Effective Treatments for Opioid Use Disorders [125]
Medication Assisted Treatment introduction for all and MAT waiver training (different online curriculums for MDs, RNs, and MAs) [126]
Applying CDC's Guidelines for Prescribing Opioids: Module 5: Assessing and Addressing Opioid Use Disorder (OUD) [127] (Free on demand training with CEUs)
www.WhatsUpWithOpioids.org [128]
Perinatal
Opioid Use + Pregnancy [129]
FACTSHEET - Substance Use and Pregnancy During COVID-19/El Uso de Sustancias y el Embarazo Durante COVID-19/Uso de Substâncias e a Gravidez Durante COVID-19 [130]
Rural Health
National Rural Health Resource Center [131]
Document: Understanding and Addressing Social Determinants of Health: Opportunities to Improve Health Outcomes, A Guide for Rural Health Care Leaders. [132]
This guide provides rural health care leaders and teams with foundational knowledge, strategies, and resources to understand the impact of social determinants of health on patients and communities and to recognize local needs and opportunities for action.
Tobacco
The Vaping Phenomenon - What It Is, Why It Happened, and What We Can Do About It (Webinar video from Stanford's Health Improvement Program) [133]
APNA Nursing Competencies for Treating Tobacco Use Disorders [134]
TOBACCO & NICOTINE USE SCREENING TOOLS & ASSESSMENTS [135]
Self Care 
Virtual: Room of Refuge [138]
Mindful Minute Cards [139]
Stigma
Social Stigma Toward Persons With Prescription Opioid Use Disorder: Associations With Public Support for Punitive and Public Health–Oriented Policies [140]
Spirituality/Faith based harm reduction
Spirit of Harm Reduction: A Conversation with Toolkit Contributors [141]
Liberatory Love: A Human Rights Day Ritual Experience with People Who Use Drugs [142]
Undoing Drugs
The Untold Story of Harm Reduction and the Future of Addiction