CURRENT OUTAGE INFORMATION
SCE PSPS Info [2] Get SCE Notifications [3] Code Red Registration [4]
Liberty PSPS Map [5] AFN Registration [6] PSPS Status Dashboard [7]
HOW WILL I GET NOTIFIED?
SCE is required to notify customers prior to de-energization of circuits during any PSPS event. Unless you are part of the Medical Baseline program [8] or considered to be a critical care customer, you can generally expect to be contacted by SCE and Mono County as PSPS events progress based on the chart below.
If you are not registered for SCE Customer Notifications, please do so here [3].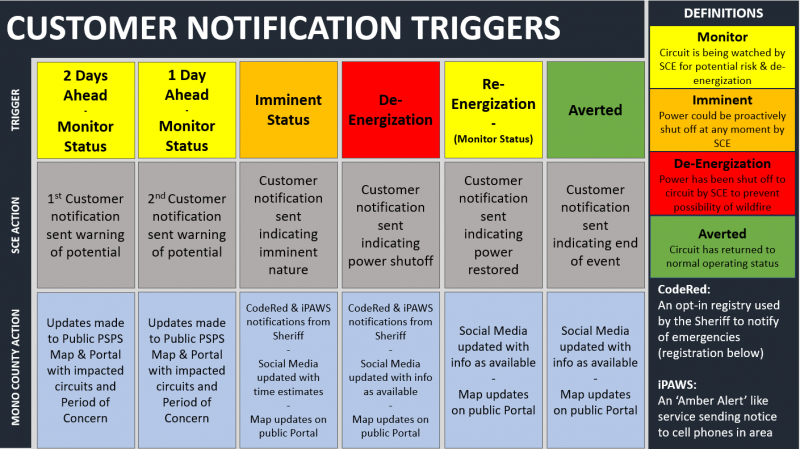 [9]
ACCESSING SERVICES DURING AN OUTAGE
[10]
More information and service categories coming soon...
WHAT IS THE COUNTY DOING IN RESPONSE TO PSPS?
The County has a multi-pronged approach to the PSPS program with three main focus areas:
1. Internal Business Continuity & Resiliency
2. Event Management & Messaging
3. External Coordination & Advocacy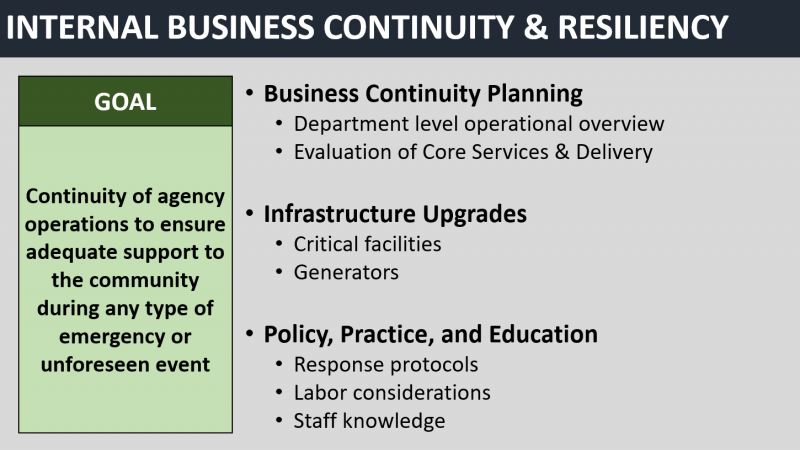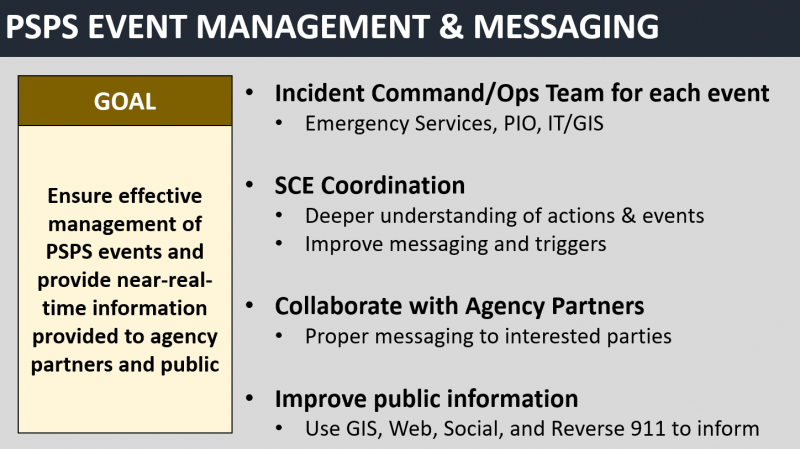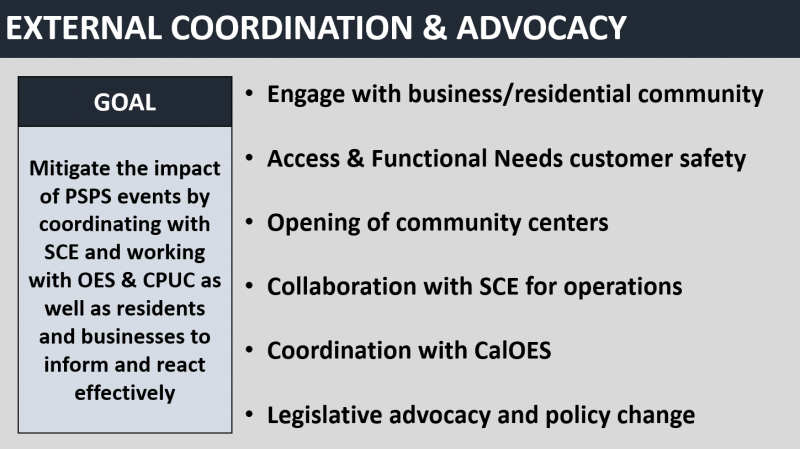 ABOUT THE PUBLIC SAFETY POWER SHUTOFF PROGRAM
The "Public Safety Power Shutoff" (PSPS) program was developed by electric utilities such as Southern California Edison (SCE) as a preventative measure of last resort if the utility reasonably believes that there is an imminent and significant risk that strong winds may topple power lines or cause major vegetation-related issues leading to increased risk of fire. During such events, the utility will proactively turn off power in high fire risk areas 
PSPS EVENT RETROSPECTIVE
FAQs
How do PSPS events work?
When forecasts indicate elevated weather conditions, SCE will begin assessing the potential impact to affected areas. They will analyze historical data to help predict the likelihood of a wildfire occurring, closely monitor weather watch alerts from the National Weather Service (NWS), and place incident responders on alert, if needed. Note that erratic or sudden onset of conditions may impact their ability to provide advanced notice to customers, however, so it is important to always be prepared.
Who will be subject to PSPS?
The PSPS program is aimed at any high fire risk area - which essentially encompasses all of Mono County. This means that there is the possibility that any community in the County could be subject to a planned power shutdown if the weather conditions become extreme enough. The map [11] above shows all of SCE's electrical circuits and their status based on current weather conditions and events.
How long do PSPS events last?
Depending on the severity of the weather and other factors, power outages could last several hours or multiple days – so it's important you and your family have an emergency plan in place. Power will remain out for as long as extreme and dangerous weather conditions pose a potential fire risk. After a Public Safety Power Shutoff event, your energy company will inspect and repair power lines and equipment so that power can be safely restored.
Will my phone and internet continue to work during a power outage?
Phone and internet service is critically important during a power outage, as it provides a means for communicating with customers as events unfold, as well as reaching emergency services during times of need. Here are some things to consider:
If you absolutely must having phone service during a power outage, you should purchase a 'landline' through Frontier and ensure that the phone you have in your house does not require power (these are frequently call these "Princess Phones").
The two major local cell phone companies (Verizon Wireless & AT&T) have power resiliency plans and their network should generally remain operational during a power outage. It is important to recognize that these networks become heavily saturated during outages, however, as a lot of people use them for internet. Make sure your cell phone is well charged.
Home internet service providers (such as Suddenlink, Race Communications, Schat.net, and Frontier) will generally stop working after four hours. In order for you to have internet at your home, however, you will also need to ensure that your modem and wireless router have power.
Will 911 continue to work during a power outage?
Yes. The Mono County 911 Dispatch Center has generator power with multiple layers of redundancy. As long as you can dial 911 from a phone, it will go through to a dispatch center.